The long awaited rear coil over kits are now ready to order.
You've seen the threads where Kingsize has been testing them out for me.
They have worked great for him. More tire clearance, better traction off the line and less wheel hop from what Jason has said.
Best thing is this kit only requires you to drill 2 holes down through the trunk and that's it.
Pretty much a bolt on kit.
This thread goes over the installation, Kingsize did a very good job on covering the install and testing.
The brackets give you 3 different ride height adjustments and solidly mounted to the frame.
All the parts are laser cut and CNC machined + tig welded.
I expect this to be a very popular item for the GTO community.
Kingsize and Perdieu has done a bunch of testing with this kit both on the drag strip and for daily driving and they couldnt be happier. It's a well designed kit that really delivers as advertised.
There are 2 ways to buy the kit.
Sale price $899. (normaly $949.)
- The complete kit with the QA1 double adjustable coilovers, springs (either 125 lb or 150 lb depending on your car weight), upper brackets, lower shock adapters and all hardware.
http://shop.gforce1320.com/product.sc?productId=70&categoryId=17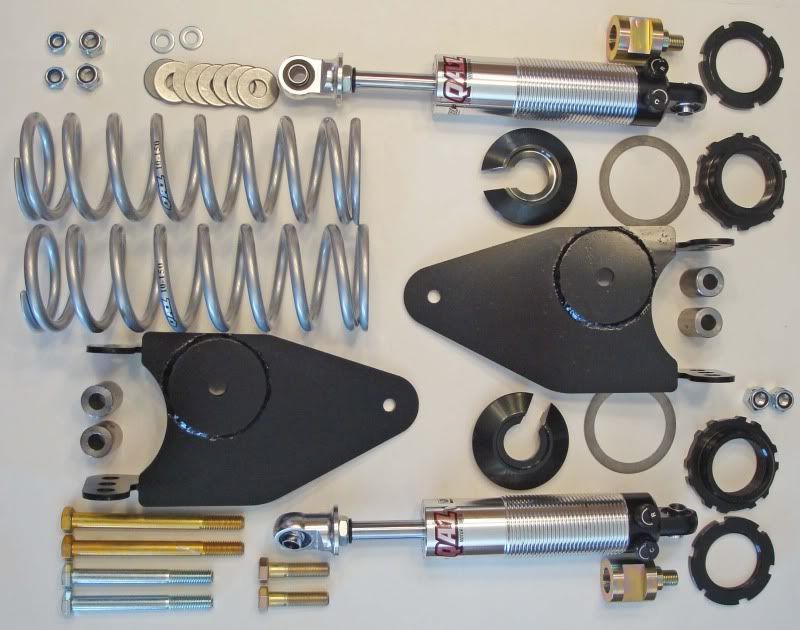 $279. - The bracket kit and hardware without the coil overs for you guys wanting to get your own coil overs.
I've had several guys ask about running this bracket kit with a regular shock and keeping the OEM coil springs to gain tire clearance, it works great for this as well.
http://shop.gforce1320.com/product.sc?productId=71&categoryId=17
Here a couple installed pics from the Kingsize installation and testing thread.
Thanks
Chris